California Community Colleges have released a draft of policy recommendations to increase student success in the state's two-year colleges (from the cleverly-entitled "Student Success Task Force"). One of the biggest changes is to enrollment policies and priority registration – a major issue given $800 million in budget cuts over three years and 140,000 students shut out of the system due to lack of classes.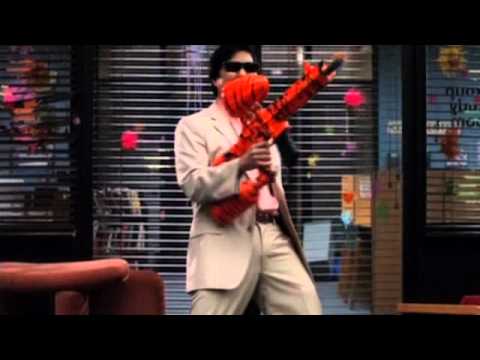 For any fans of the TV show Community or anyone fortunate enough to catch the most brilliant half hour of television in the last two years, you are already well-versed in the politics of priority registration, a.k.a the paintball war "prize." But in this case, priority registration isn't going to help Jeff have a six-day weekend or Shirley spend more time with her boys… it's going to help students find and complete an academic pathway without wasting time and accumulating unnecessary amounts of debt.
Currently, California community college students are prioritized in the registration process based on the number of credits they have earned: the more credits you have, the earlier you get to register. As the task force notes, this policy has perverse incentives, emphasizing credit accumulation over sustained progress in a deliberate pathway: "policies that enable students to wander around the curriculum, withdraw and repeat classes multiple times, avoid services that could steer them along a productive pathway, and accumulate an unlimited number of units are a disservice to enrolled students and to those who can't get into the system for lack of available classes." Instead, they propose giving priority to students (currently enrolled and new) that designate and make continual progress towards a career or academic objective – a point Jay Mathews discussed today on his blog.
Now I usually don't dwell in higher ed wonk-land, but with college and career readiness at the top of the K-12 agenda, I've started to pay more attention to the role of community colleges. When most students aren't college- or career-ready (which we have always known anecdotally and are starting to know definitively thanks to better data between high schools and higher ed), community colleges are tasked with helping students shore up their basic skills. Nationwide, nearly 60% of entering community college students need remediation in at least one subject. But of these students, less than a quarter finish their two-year degree within eight years. The task force notes that the first "loss point" for students is failing to complete their basic skills competencies. Clearly, remediation is a major barrier to degree completion. Meanwhile, students accumulate more and more debt as they take additional time to finish their one- or two-year program.
So how can priority registration help? Just look at City College of San Francisco: in 2009, Chancellor Don Griffin let 321 lucky freshman bypass the credit-based registration process. 74% of these students enrolled in the math courses they needed, and 70% were able to enroll in English. The results were much bleaker for a similar group of freshman without priority – only 22% could enroll in math and 47% in English. The program was so successful (98% of pilot students persisted into their next year), Griffin expanded it to all incoming students from San Francisco public schools.
Priority registration could help students remain focused, keep their debt manageable, and avoid the frustration of taking unnecessary classes. Take the story of Willie Shaw. He enrolled in English and basketball his first semester, but not the math course he needed or the one class he was really excited about – criminal justice. Barely in his first semester, he told the San Francisco Chronicle: "I thought about quitting school two days ago."
Of course, the task force's priority registration plan isn't a slam dunk with everybody. In Community's 'Modern Warfare' episode, the "prize" meant students turning on one another and running around in packs ("the Glee club has lured stragglers into sniper traps with cheery renditions of hit songs!"). In California, the Los Angeles Times headline says it all: "Task force moves toward rationing access to community colleges."
Rationing is never a popular word, and yes, the policy – just like paintball – will create winners and losers. But in a state that is already rationing access (remember the 140,000 students who couldn't enroll last year?), the California priority registration proposal aims to ensure that the losing group no longer contains students who have the potential to succeed, but are instead hindered to the point of dropout because they can't enroll in the classes they need – and want – to take.